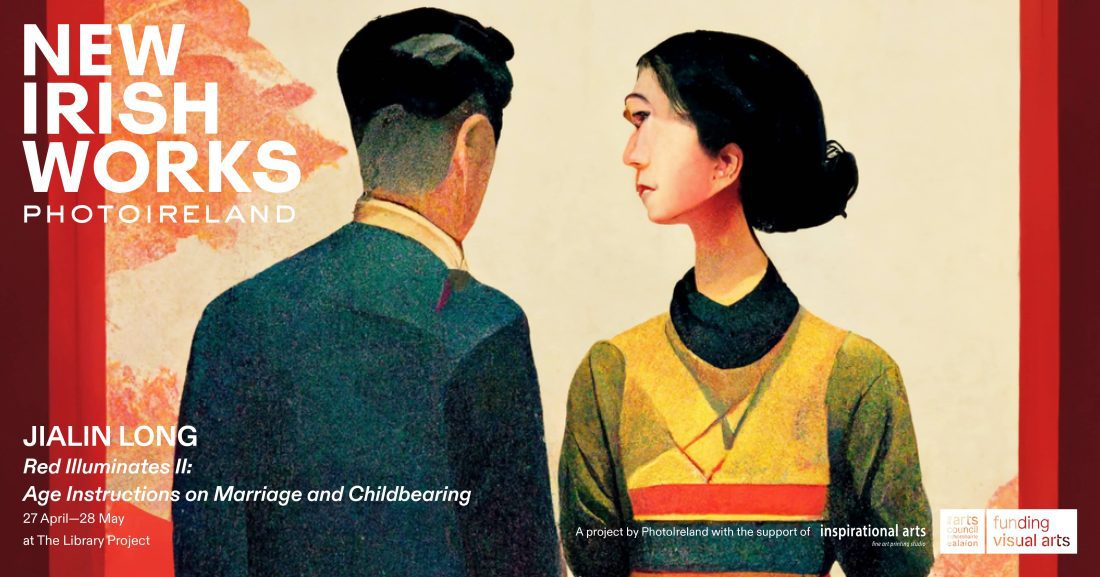 Red Illuminates II: Age Instructions on Marriage and Childbearing, Jialin Long
New Irish Works series 2023-24
Launch 6pm Thu 27 April
Running 27th April-28th May
At The Library Project
Red Illuminates II: Age Instructions on Marriage and Childbearing
PhotoIreland presents an introduction to Jialin Long's latest body of work, Red Illuminates II: Age Instructions on Marriage and Childbearing. This is the fourth exhibition in the New Irish Works series.
Long is taking this opportunity, through New Irish Works, to showcase her current work in progress. She's engaged in a project that takes its roots from prior work. Her research was starting with a new Chinese word that came out in 2006, '剩女' [ShengNv] a term meaning 'Leftover Women', which describes unmarried women in their late twenties or older.By deconstructing the connection between the family planning policy and the tremendous societal pressure faced by these unmarried Chinese women, Long's work involved feminist issues in culture, childbearing, the role that state influence played in between, and its impact on contemporary society in China. As the recipient of the Temple Bar Gallery + Studios Recent Graduate Residency 2023, Long is excited to join this vibrant community at TBG+S and further develop her work in progress in a fruitful manner.
About the Artist
Jialin Long is a Chinese lens-based artist and photographer living in Ireland. She graduated with a first-class honours degree in photography from IADT (2020), winning awards with her project Red Illuminates, which has been exhibited in and published with photography institutions throughout Ireland, Europe, the UK, and Canada.
Long's latest work What Do you think of Me?, commissioned by Creative Ireland, DCC Arts Office, and Photo Museum Ireland, centres around the theme of diversity, and challenges stereotypes of the Chinese community in Dublin. This work has been added to the National Photography Collection and exhibited in various places, as well as published in numerous publications. Long's images from both works have been adding into the Arts Council Ireland acquisition. Long is a recipient of the Arts Council Visual Arts Bursary Award 2021 and Agility Award in 2022.
Long's practice focuses on issues in contemporary culture, using new methods of presentation to explore socio-political and feminist issues. Formulating alternative statements and positions, Long challenges stereotypes and rethinks issues facing marginalised communities. Using photography and, more recently, artificial intelligence, she actively seeks ways to support and enhance the desired aesthetics and concepts of her intended message.
About New Irish Works
The New Irish Works series brings contemporary photographic practices to The Library Project throughout 2023-24 with the support of Inspirational Arts and the Arts Council of Ireland. The artists selected for New Irish Works include Audrey Blue, Bryony Dunne, Pauline Rowan, Jialin Long, Róisín White, Martin Cregg, Martin Seeds, Cian Burke, Mark Duffy, and Shia Conlon.
New Irish Works is a triennial project run by PhotoIreland to represent and promote the growing diversity of contemporary photographic practices in Ireland. It enriches the Irish ecosystem with much needed new voices, new curatorial approaches, facilitate much deserved new opportunities, and invigorate the Irish photography scene.
This unique artist support programme is run since 2013 by PhotoIreland in 3-year cycles, generating a growing set of professional development opportunities for selected lens-based practitioners throughout the duration of each cycle. The call is open every three years to Irish and Ireland-based artists at any stage of their career.
Throughout its history, New Irish Works has exhibited and showcased nationally across Dublin, Cork, and Limerick, and internationally from Paris, Amsterdam to Madrid, Ukraine, and beyond; it published and distributed a book featuring 25 artists in 2013, and a collection of 20 solo publications in 2016. The publications have sold worldwide and are now part of many private and public collections, including key cultural organisations such as the Hasselblad Foundation Library and the Centre Culturel Irlandais.